How to Install Opera in Ubuntu 18.04 Bionic Beaver
Firefox and Chrome are the two most popular web browsers for Ubuntu, But there is a another very good browser called opera. This tutorial explains How to Install Opera in Ubuntu 18.04 LTS.
Opera is fast and secure web browser that support cutting edge technologies. If you are looking for alternative web browser for your Ubuntu Desktop, then opera should be your first choice.
We will perform the following steps to install opera web browser in Ubuntu 18.04 Bionic Beaver:
Install gdebi package installer.
download opera for Ubuntu 18.04.
Install Opera with gdebi command.
Opera provides deb package for Ubuntu, the best way to install deb packages is to use gdebi command line tool. So first open the Ubuntu terminal and install the gdebi-core package.
sudo apt-get update
sudo apt-get install gdebi-core
Next, go to www.opera.com and download opera for Ubuntu 18.04 (Save deb file to your hard drive).

Now that you have downloaded the opera deb package, cd into the download folder and install the Opera Ubuntu deb package with gdebi command:
sudo gdebi opera-stable_54.0.2952.54_amd64.deb
You should replace the deb package name according to one you downloaded.

During the installation process, it will ask to configure your system to include new versions of the opera package together with the regular system upgrades.

Select "Yes" and wait for the complete process to finish. Once the process is complete, you can opera browser from the Ubuntu application menu.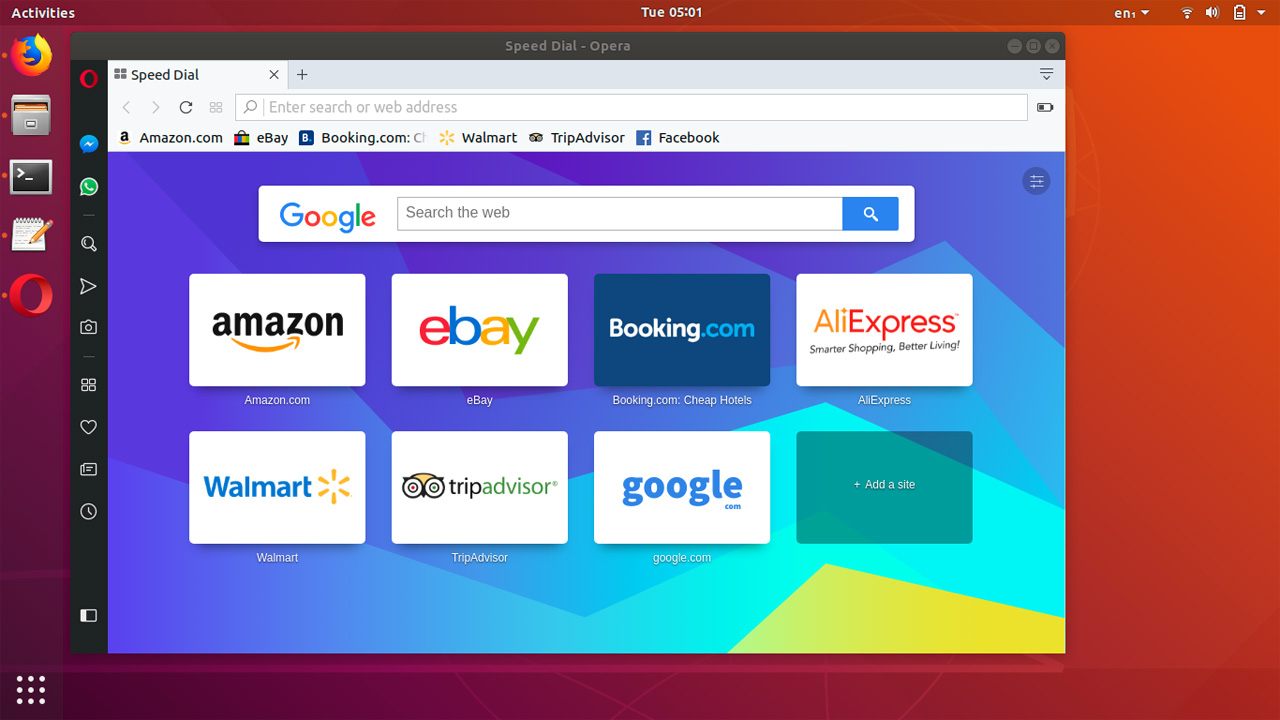 Update opera in Ubuntu
Opera browser will be updated to the newest version automatically as part of your regular system upgrade. You can also manually update opera with following command:
sudo apt-get install opera-stable
The command will install the updates if a new stable version is available. It is very important that you update the browser regularly.
Make Opera Default browser on Ubuntu 18.04
If you want to make opera your default web browser in Ubuntu, Open the browser and press ALT+P on on the keyboard to open opera settings.

Under the default browser section, click on "Make Opera my default browser" button.
Uninstall Opera Web browser on Ubuntu
If you want to uninstall opera web browser, open the terminal and execute:
sudo apt-get purge opera-stable
sudo apt-get autoremove
Alternatively, you could also uninstall opera from the Ubuntu software center, under the installed packages.